eSports are here, and we are kicking it off to 5th graders on January 26th at Bernard Terrace Elementary.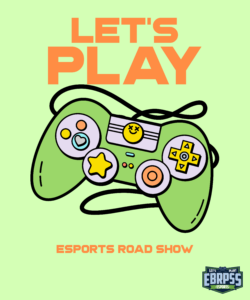 The eSports Roadshow will consist of a quick presentation to introduce the esports framework in our young scholars going over the following: 

Demonstrating the lasting connections between industries, community services, the arts, and technology with the leaders, thinkers, creators, and entrepreneurs of tomorrow. 

 

Develop skills, confidence, and responsibility in our scholars and encourage them to take smart risks and try new things that they can bring into every aspect of their lives.

 

Foster a sense of community and an idea of healthy competition and sportsmanship to instill teamwork and pride in their schools, their community, and themselves.

 

Build a "pipeline" to higher education with opportunities for scholarships in not only gaming, but also media content creation, shoutcasting, broadcasting, editing, and more with a goal to provide a head start on development of work portfolios.

Inspire interest in obtaining advance trade certifications to facilitate entry into the job market with 21st century job skills. 

 

Following the presentation students will take part of a single elimination 3 vs 3 tournament where one team will win and get to hold the championship belt and take pictures. Then one lucky student will be then selected to play for the 1vs1 Bandit championship vs the Bandits current champion. If the Student wins, he/she will hoist the title and be crowned new Champion. If there is any left-over time after the main event, we will then give any kids opportunity to play in quick 3 min rounds of 3 vs 3 to give a chance for everyone to be part.